What We're About
Gadgets And Khajiits is made up of a group of people who have games pouring out of every orifice. We simply can't get enough of them, and since it's good to share your problems, we set up this blog to deliver gaming news and reviews mixed with gallons of comedy. If you have any questions or "business" things, email gadgetsandkhajiits@gmail.com. It's nice to talk to humans.


The People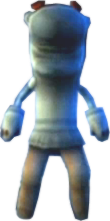 Favorite Game:
Star Wars Battlefront II
Favorite Genre: Action/Adventure
Favorite Developer: Pandemic Studios
Pet Hate in Gaming: Microtransactions
Favorite Character: Mister Socky (TimeSplitters: Future Perfect)
Favorite Console: PS2






Name: Carlo Esguerra
Favorite Game: Kingdom Hearts 2
Favorite Genre: Action RPG
Favorite Developer: Bethesda
Pet Hate in Gaming: Repetitiveness
Favorite Character: John Chaser (Chaser)
Favorite Console: PC



Name: Joe Rucklidge
Favorite Game: Mass Effect 3
Favorite Genre: MMORPG
Favorite Developer: Bioware
Pet Hate in Gaming: Grinding
Favorite Character: Cipher 9/Imperial Agent (SWTOR)
Favorite Console: PC
Post Schedule
Monday: Top At The Shops: A rundown of the top 10 best selling games of the last week!
Saturday: Silicon Saturday: Sam looks at the week in tech!

Friday: Friday Flix: The latest in videogame film and TV news!
Weekend: Our Week In Gaming: We talk about our experiences in gaming of the past week!
Everyday: Gadget and Gaming News!

Sunday: The Week Ahead: A preview of the biggest games and events of the next week!
Not On a Schedule:

Joe's MMOS/Random Reviews: Joe reviews the latest games!
SWTOR Lowdown: Joe takes a look at the latest in The Old Republic!
Anytime Reviews: Carlo reviews old and new games!

Raucous Reviews: Sam reviews the latest games!
Quickie Reviews: Short and snappy reviews of the latest mobile games!